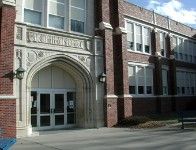 Clinton Elementary is seeking to install a walking path around their playground for their students. They've already raised over $1,200 dollars through a student-assisted "Change for Change" fundraiser, healthy snacks sold at the school carnival, and art donated to an art auction! In addition to that, local businesses have donated around $6,000 to this fund! They have been working hard on gathering donations and now have only $4,000 left to raise out of $27,625 total. Clinton Elementary wants to promote health and wellness in the community. The U.S. Deptartment of Health recommends that children and adolescents get an hour or more of exercise per day. The walking path will enable students to be more active, and make recess a more accessible time for students with disabilities! Rain or snow, the walking path will be available to students as a place to exercise.
The walking path will be almost a half-mile in length, will circle Clinton's playground, and will be entirely within the surrounding security fence! Every day, 530 high-energy students will use this walking path. Currently, on bad weather days, students not scheduled for Physical Education classes have no recreational facilities to use. This fund will allow Clinton students to have fun and exercise, no matter how muddy it is outside!
Clinton Elementary is well on their way to funding this project, but they still have a ways to go. That's where you come in! Here's your chance to invest in something that will positively impact the lives and health of Clinton students for decades. Please help Clinton and the Foundation turn this dream into a reality!
GIVE