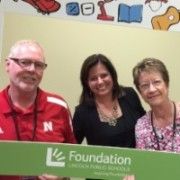 Diana and Lloyd Roberts are close friends to the Foundation, and have a long history of community involvement. Throughout the years, they've run the Brooke D. Roberts Student Endowment Fund and given generously to the Lincoln community in honor of their daughter.
2015 is the first year that they have contributed to the Doane Leadership Conference. The conference focuses on creating leaders of Lincoln's 4th – 6th grade students, coaching them in critical thought and self-confidence. They feel like the Doane Leadership Conference will make a difference, reminding students to forge their own path and inspire their peers.
Recently, Diana and Lloyd have refocused their efforts towards Elliot and Hartley Elementary Schools. Part of this focus is being able to reach back to students early on in life, helping them grow as leaders.
It's their understanding that students today face many new pressures (whether it be from technology, social media, or elsewhere), and the best way to prepare them for these new challenges is to create students who can take lessons taught outside of the classroom and apply them within schools.
A big aspect of the Doane Leadership Conference is critical thought—it's important for young people today to think about their words and actions, especially in the internet era. Diana and Lloyd's enthusiasm for the conference comes from their belief that it will create students who are thoughtful, less impulsive, and able to lead their fellow students. The whole goal is to be a positive influence that creates long-term change in students' lives.
Throughout their many years spent supporting LPS through the Foundation, Lloyd said that the most fulfilling aspect is seeing students take the opportunities they're given, and furthering their education.
Diana and Lloyd both wanted to commend the principals of Hartley and Elliot Elementary. Lloyd expressed appreciation for how hard they work, and how much LPS's faculty cares about their students. By working closely with these principals, they have run successful anti-bullying programs in years past, and will be preparing 10-20 students from each school to attend the leadership conference.
"I've traveled all over for my job, and I haven't found anywhere else that has a better setting for their school system than Lincoln Nebraska. The support they get from the community, the administration…I can't believe all the work our teachers do. I've had chances to move my family to other areas, but nowhere compares to Lincoln."