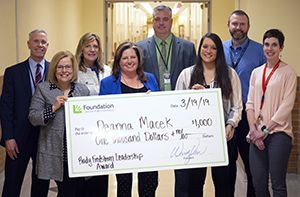 Lincoln, Nebraska – Irving Middle School instructional coordinator Deanna Macek was presented with the R.L. Fredstrom Leadership Award by the Foundation for Lincoln Public Schools on March 19, 2019 at a staff meeting with colleagues and her family.
Macek was recognized for building positive working relationships, showing compassion and being an exceptional leader. She was nominated by her colleague, Rachael Kluck-Spann.
"Whether it is an academic or behavioral concern, Deanna has excellent skills to help find working solutions in a collaborative, productive way," Kluck-Spann wrote in her nomination. "Macek is an enormous asset to our administrative team, the Irving community and to Lincoln Public Schools."
"An outstanding servant leader, such as Macek, sets the tone for a positive and supportive school culture. Leadership that is provided from a bottom-up and not top-down vantage fosters a strong foundation in which teachers can flourish," wrote Irving principal Jason Shanahan. "When this takes place, students benefit from the stable and supportive environment."
The R.L Fredstrom Leadership Award was established to honor Rudy Fredstrom, a long-time Nebraska teacher and administrator who served as assistant superintendent of LPS from 1951-75. His mantra was "never quit learning." This award recognizes LPS teachers or coordinators who show outstanding leadership qualities or demonstrate the potential to become an outstanding educational leader. Winners receive a certificate, an engraved clock and a monetary award to be used to continue their education and refine their skills in the area of serving education through leadership.
Previous award winners include Nancy Bare of LPSDO and Prescott Elementary School, Carrie Erks of LPSDO and Randolph Elementary School, Cheryl Richter of Fredstrom Elementary, and Joseph Rousseau of the Expelled Program.
Video: https://youtu.be/jH_GVbM5n2Q