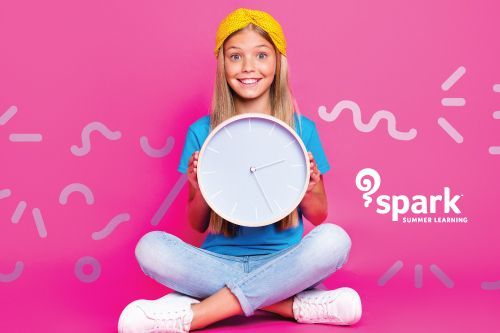 For working parents, we understand summer can be a stressful time. We want your kids to be safe, have fun, and learn a thing or two, but everyone has a flexible work schedule. 
Spark Summer Camps are designed to be flexible for working parents and curious kids. 
About Us
Summer learning is more important than ever, and our summer learning camps are filled with activities and experiences that your child will never forget. Our curriculum is from the Boston Museum of Science. We offer learning opportunities through STEAM (Science, Technology, Engineering, Art, Math) with weekly themes. These themes are diverse and full of fun and include: 
Robotics and Coding
Outer Space
Maker Party
Food and Science
Bugs 
Ocean Submersibles
Hydroponics 
Urban Farming
Parachutes
Architecture
Rocks and Artifacts  
This wide variety of subjects allow your child to explore their interests with our summer camp instructors, some of which are certified Lincoln Public School teachers! The Foundation for Lincoln Public Schools created Spark because kids are deciding if they identify STEAM subjects as early as 3rd grade and by introducing STEAM early and often, in a way that feels like play, kids are likely to pursue a future career in these fields.
Parent Perks
Our Lincoln, NE summer camps offer convenient and flexible hours to take care of working parents and on-the-go families. We understand that it is our job to be flexible for you, which is why we have extended before and after care options, included in our weekly rates. For all you working parents out there, get excited because that means you can fit in a full day of work, while your kiddo has a full day of fun. 
Food is included too! Getting ready in the morning at home before Spark can happen in a snap. We offer breakfast, lunch, and one yummy snack. 
Our Why
Parent support allows us to have the opportunity to show our passion – teaching your children and watching their curiosity grow. We are grateful to our parents and the meaningful support our summer camps receive from them. 
"I could give example after example of how much our daughter took away from this unique program, but in short we feel very lucky that the Spark Program is available in Lincoln and our daughter got to be a part of it. Every child should have access to such great care and a fantastic curriculum which allows them to grow in their own unique direction! It was the highlight of our week to see how our daughter presented the information she had gained that week along with whatever project she had completed with her peers." - Cheryl and Shaun Dunn, Spark Parent
Here's to a Summer Full of Fun and Learning
Since the start of the pandemic, we have been taking every precaution with our summer learning camps because your child's safety is our number one priority. Our goal is to keep your child safe in our care. Through consistency with COVID-19 precautions such as:
Wearing a mask
Social-distancing
Twice-daily temperature checks
We have maintained a safe, fun, and educational environment during our camps. 
Enrolling your child in our affordable Spark summer learning camps with content they love is the best and most effective way for them to spend their summer. 
We understand that online learning may have affected learning productivity over the last year. By signing your child up for our fun and educational summer learning camp they will have the opportunity to avoid gaps and continue learning. 
And our parent portal makes keeping track of it all easy with  payment, forms, weekly communication, and other updates all in one place. 
Summer Camp Hours of Operation
Full-Time Programming Monday-Friday, 9 AM - 4 PM
Half-Day Programming Monday-Friday, 9 AM - 12 PM
Complimentary Before Care 7 AM - 9 AM
Complimentary After Care 4 PM - 6 PM
To sign up for our e-newsletter to stay in the loop about all things Spark Summer Learning, click here.
If you have any questions about Spark Summer Learning, please feel free to email us at info@sparksummer.org or call us at 402-436-1612.