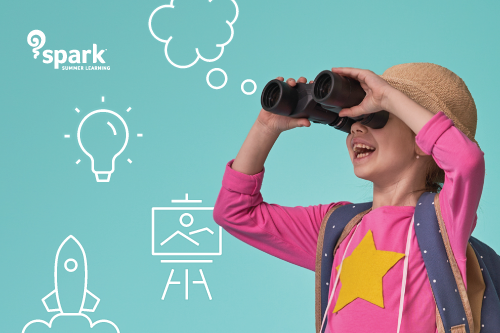 If you haven't noticed, we are obsessed with helping kiddos of all elementary ages have an enriching summer camp experience. We could go on and on about the important benefits of camps, but here is our list of the top four benefits for attending summer learning camps. 
#1: Camp helps kids build a unique interest
There aren't many schools that offer classes with topics like Ocean Submersibles, Robotics and Coding, or Urban Farming. At Spark, our summer learning camps offer new and diverse learning themes each week that allow your child to figure out what their passion is when it comes to learning.
If your child has an interest in science, technology, engineering, art or math, where do they go to learn or gain experience? There might be a few after-school options, like a robotics club, but even then, you're adding one more thing onto the plate of a student who already has homework and other commitments to juggle.
Our Spark Summer Learning camps offer a great option that allows time for kids to build a unique new interest. 
#2: Camp helps with mental stimulation and physical activity
At our summer camps, the kids are continuously learning and moving. But if your child is especially interested in say, robotics, they are excited to learn and experiment. 
The teachers at our camps understand the importance of learning throughout the summer, and how that can positively impact kids' lives. Our enriching summer program from the Boston Museum of Science is what makes our curriculum different from any other local summer camp. 
Not only is your child going to safely be out and about staying active, but will also be continuing to learn.
#3: The way kids are learning is changing
We understand for some parents that when your child comes home from school and asks about a math or science problem, it's hard for you to understand "the new math." 
Our instructors know all of the new and exciting ways that kids are learning now. They are well prepared and ready to educate your child in ways that help them learn new material. Whether that's problem solving, communication, or technology – our instructors are ready to help your child learn effectively!
#4 Camp is fun and entertaining 
We love hearing about how our summer camp kiddos loved their week at camp.What better way to show you how our camps are fun and entertaining than by sharing a story told by a Spark Parent. 
"When my son first participated in Spark he was going into 5th grade. He's a student who always identified as a scientist and engineer. When I came home after the first day he ran and jumped into my arms and said that it was the best day of his life." - Dr. James Blake, Spark Parent
For us, these stories are why we truly love what we get to do every summer. We can't wait for this summer to start, and we are hopeful for a safe summer that has all the learning and growth involved. 
Summer Camp Hours of Operation 
Full-Time Programming, Monday-Friday, 9 AM - 4 PM
Half-Day Programming, Monday-Friday, 9 AM - Noon
Complimentary Before Care, 7 AM - 9 AM
Complimentary After Care, 4 PM - 6 PM
Information about our summer camp hours is listed above, if you are interested in signing up for our e-newsletter to stay in the loop about all things Spark Summer Learning, click here.
If you have any questions about Spark Summer Learning, please feel free to email us at info@sparksummer.org or call 402-436-1612.