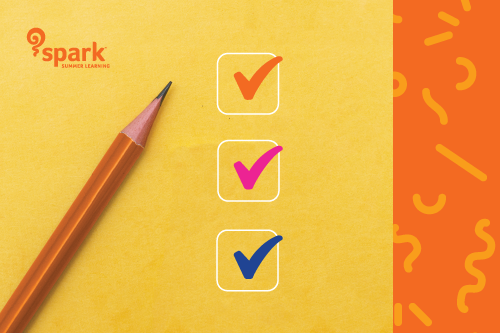 You may be wondering, "Why should I even be considering signing up my child for a summer camp, I don't even know what I'm feeding my kids for dinner tonight?"
Our answer is simple: signing up is easy and it's going to save you loads of time in the future. 
We have lots of reasons why we think you should sign your kid up now for our summer camps, but here are our top three reasons why you should think about signing your child up early.
#1: One More Thing Checked Off Your List
As a parent, your never-ending list of things that you need to do nearly doubles when you have kids. At Spark, we understand that struggle, and we are here to help. Planning for your kids' summer activities is difficult without a doubt, the good news is that when you register for Spark summer learning camps early, you have more than enough time to get your summer schedule together. 
Not to play devil's advocate here, but if you end up signing up for summer camps at a later time, you could be picking between fewer options. This may cause you to reschedule physicals or other summer sports and clubs that might not be as convenient for your work schedule. 
Essentially, signing up early for summer camps can give you peace of mind, something that doesn't happen as often as you would like. Knowing that you have a plan in place once school is out can be reassuring. It's one more thing to check off that never ending "to-do" list. 
 
#2: Your Child Will Have a Saved Spot 
When you register early for Spark summer learning camps, your child will have a guaranteed saved spot. 
We understand that due to the pandemic, learning online during this unprecedented time has affected the way your child has been able to take in information. With a saved spot at Spark summer learning camps, your child has the opportunity to get excited about school again as well as a summer full of enriching learning experiences, which will benefit your child in the long run. 
#3: One of the Most Affordable Summer Camps 
We understand that as parents it is daunting to see the words "affordable" and "summer camp" next to each other – but, for our experience, enrollment options, and the material we offer, we believe our enriching summer learning camps provide great value to your child.
At Spark summer learning camps, we offer a wide range of pricing packages that can work for almost any family looking into summer camps. 
Our Enrollment Options include: 
Full Time Enrollment
10 Week Session
$199/week plus a one-time $30 activities fee
Drop-in Enrollment
Choose the weeks that work for you
$235/week plus a weekly $10 activities fee
Half-Day Enrollment - NEW 
Program runs from 9 AM to Noon with before care included
$130/week plus a weekly $10 activities fee
Breakfast, lunch, and snacks are included daily for full time and drop-in enrollment participants. 
Breakfast is included daily for participants enrolled in our half-day option.  
Field trip transportation and admission fees are included.
Spring Into the New Year with Peace of Mind
We are beyond excited for this summer to start and to get crackin' on some cool learning experiences. We understand that all parents are different, but we encourage you to highly consider signing up your child for summer camps now, rather than later. 
Listed below are our flexible hours along with our variety in programming options for Summer 2021. We hope to see your child for a summer full of fun and learning!

Summer Camp Hours of Operation 
Full-Time Programming, Monday-Friday, 9 AM - 4 PM
Half-Day Programming, Monday-Friday, 9 AM - Noon
Complimentary Before Care, 7 AM - 9 AM
Complimentary After Care, 4 PM - 6 PM
Sign up for our e-newsletter to stay in the loop about all things Spark Summer Learning, click here.

If you have any questions about Spark Summer Learning, please feel free to email us at info@sparksummer.org or call 402-436-1612.