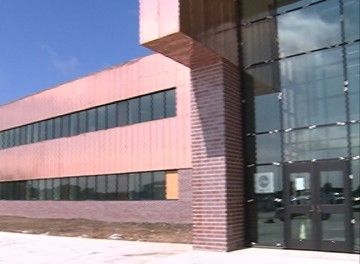 Jade Blizek and Kealy Barnes are both students at LPS's new Career Academy. As part of the first generation of students to graduate from The Career Academy, both Kealy and Jade has interesting insights on how TCA is going to help Lincoln students reach their full potential!
The Career Academy puts students on certain pathways, and uses hands-on learning to teach students practical skills. Students of TCA get a head start in careers like engineering, health-sciences, and business, participating in curriculums tailor-made to their professions of choice. The program benefits from business connections around Lincoln, and students graduate with concrete career options within Nebraska!
Jade, who is currently on the welding career path, had a battle with cancer early in his life. He said that this early experience has shaped his life-goals, and made him appreciate the opportunities he has available to him. Because of this, he feels that The Career Academy is an excellent fit for him.
Kealy is on the health sciences pathway, and is motivated by a bad experience she had with nurses. While her mother was recovering from a surgery, her nurse failed to identify the symptoms of internal bleeding, which led to complications on the road to recovery. Today, Kealy's mother is doing fine, but Kealy says that she is driven by the motivation to be a better healthcare provider for people like her mom.
Both students raved about The Career Academy. They said that the biggest difference between TCA and their high schools was the drive every student had to succeed, "It's a lot different than a normal class. We all want to be here, we're all excited to come every day…if I miss the bus, I'm not going to stay home, I'm going to find my way here and weld, because that's what I want to do."
Jade told stories about several businesses who had already come and spoken to his class—he felt as though he already had several available routes for his career. "That's the thing I like about it, it's an open door. I can take the skills I learn here anywhere and be successful."
In the weeks since this year has started, Kealy has already learned how to administer IV drips, give vaccinations, and draw blood, and has spoken with nurses, EMTs, and other healthcare professionals! Both students said that their classes are informative and interesting, pulling from Lincoln Public Schools and Southeast Community College curriculums.
For students who have concrete career goals, The Career Academy opens many doors wide open. Jade and Kealy agreed that the ability to focus on what they wanted from their education was the largest draw, and they seemed more than satisfied with their decision. Each pathway at TCA focuses on giving students a competitive edge in their field, by providing them with unique experiences to learn from industry professionals. "Everyone gets along here because they have a common goal; we're all motivated."
The passion of students of TCA, the dedication of its faculty, and the support it's gained from Lincoln all contribute to this incredible program. The Career Academy will be a huge asset to LPS in coming years, and is already providing its students with incredible opportunities, driving them to the utmost of their abilities!