Teaching is the greatest act of optimism. –Colleen Wilcox

This year the Foundation awarded more than $20,000 dollars to deserving teachers in our district through our Outstanding Educator Awards. In a year that encompassed adjusting to virtual learning situations, new technology and additional student family hardships as a result COVID-19, we saw educators step up for kids. It is our pleasure to show case our 2020-21 Class of Outstanding Educators.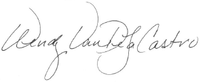 Wendy DeLaCastro
President
Outstanding Educator Award Recipients
---
Dolores N. Mather Award for Language Arts Teaching
Elliott Elementary School
Educator, 2nd Grade

Florence J. Clark Award for Excellence in Middle School Teaching
Culler Middle School
ELL Team Leader

Helen Krieger Outstanding Healthcare Provider Award
Huntington Elementary School
School Nurse

Sawin Soul Work Award
Lincoln Public Schools District Office
Director of Elementary Education

Marie Bourke Leadership Award
Elliott Elementary School
Principal

R. L. Fredstrom Leadership Award
Pyrtle Elementary School
Building Coordinator

Ruth I. Eickman Outstanding Early Childhood Educator Award
Early Childhood Special Education Home-base Teacher

Jill Oestmann Reading Educator Award
Lincoln High School
Reading Facilitator

John Prasch Health and Physical Fitness Award
Lincoln Southwest High School
PE Teacher

Florence J. Clark Award for Excellence in Middle School Teaching
Moore Middle School
6th Grade Science Teacher, Technology Leader

Nancy Muehlhausen Counseling Award
Lincoln Southeast High School
Family and Consumer Sciences Teacher

Marian Battey Andersen & Charles Wheaton Battey Outstanding Teacher Award
Irving Middle School
7th Grade Science Teacher, Science Liaison

Union Bank & Trust Award for Excellence in Financial Literacy Education
Lincoln Southwest High School
Economic/Business Teacher

Leola Bullock Multicultural Award
Student Advocate for the African American Community
LPSDO
Featured Videos & Image Gallery
---
Outstanding Educators 2021
Year-Round Support for Teachers
---
At the Foundation for LPS we work to find ways so all students reach their full potential. One of the best ways to accomplish that is by supporting our teachers. Make a gift today.