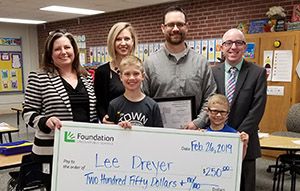 Lincoln, Nebraska – Beattie Elementary school teacher Lee Dreyer was awarded the Union Bank and Trust Award for Excellence in Financial Literacy Education by the Foundation for Lincoln Public Schools on February 26, 2019 at an assembly with students, colleagues and his family.
Dreyer, a special education teacher in his 18th year at Beattie, was recognized for finding creative ways to incorporate financial literacy into the classroom. He was nominated by his colleague Joe Gourlay.
"Dreyer incorporates managing finances and knowledge about our state's largest industry—agriculture—into his Farm Game curriculum for students," Gourlay wrote.
Dreyer's farm simulation includes teaching students to buy and sell livestock and practice budgeting to feed animals, pay bills and manage unexpected expenses. The simulation takes place over the course of a school year so students can watch their money and herd grow over time.
"By applying important skills such as managing a checking account and borrowing money, Dreyer's students get early practice in real world financial planning," Gourlay wrote.
Dreyer's nomination was supported by Beattie principal, Sean Bailey.
"Lee's dedication to his craft and commitment to the children he serves are quite simply unmatched," he wrote. "He is the quintessential elementary resource teacher and fully deserving of this consideration."
The Union Bank and Trust award was established in 2010 to recognize Lincoln Public Schools educators who strive to find creative ways to teach financial literacy, including fostering the ability to make sound financial decisions, plan for the future and respond competently to life events that affect daily financial decisions. Winners receive a certificate and a cash award.
Previous award winners include Nina Schelle of Elliott Elementary School, Diane Slaby of Lux Middle School, Brian Wandzilak of Lincoln North Star High School and Lindsay Tillinghast of Lincoln Southeast High School.
For a short video, visit https://youtu.be/rMje0iYaQpM.